Update 9:
The clog in the Jade Helm logo has a number of associations.
Jews were forced to wear clogs around the neck during times of Islamic persecution in the 10th and 11th century; and, later, under the Nazis,  Jewish prisoners were forced to wear clogs rather than shoes.
Clogs are also associated with workers' movements and with anarcho-syndicalism.
Among Sephardic Jewish women in Jerusalem, the wearing of clogs was associated with ascetic piety and conservatism.
Most interestingly, they were adopted by the sans-culottes, the Republicans, to differentiate themselves from the aristocrats, during the French Revolution, an upheaval that was one of the first triumphs of Masonic subversion.
Update 8
Several websites are claiming that Jade Helm is an acronym for Joint Assistance for  Deployment and Execution and Homeland Extraction of Local Militants.
They cite two Dept of Defense documents, only one of which I could find on the web and that one certainly doesn't contain Jade Helm, although it does discuss global disarmament.
UPDATE 7
I had some more insights into the logo of Jade Helm, particularly the clog.
The anarcho-syndicalist link didn't fully satisfy me, because communist/anarchism is only a front for much deeper affiliations.
Researching it a bit more, I found that the wearing of clogs in the Nazi camps was not the only time the Jews had been humiliated in this way.
Al-Hakim, the third Cairo Caliph who lived in the 10th-11th century, persecuted Jews and Christians, destroying some 30,000 churches in Egypt and the Near East between 1004 and 1014.  Jews were forced to wear clogs around their necks.

UPDATE 6
Here is the logo of Jade Helm 15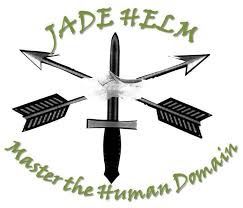 1. The "human domain" is a bit of military jargon that has become popular and just refers to the totality of the human environment in which battle is conducted.
2. The crossed swords comes from the logo of the Green Berets.
3.  "Jade Helm" could be a reference to the Green Berets, but I think it might hint at the helmets of  the Nazi army, which were green.
Through Operation Paper-Clip, the Nazis were foundational in the post-WW II organization of US intelligence.
Or, less conspiratorially,  Jade Helmet could refer to Jade Helmet in Wonderland Online, a video-game by the  Taiwanese studio Chinese Gamer International; in it, the characters have abilities linked to the four elements – strength from earth, support from water, attack from air, and agility from wind.
The transparent clog has been seen as a reference to the sabot (French –  wooden clog) and thus, to  sabotage/saboteurs.
The clog is a symbol of anarcho-syndicalism and revolution, thus Wikipedia:
"In Philadelphia, Pennsylvania, there is an anarcho-syndicalist bookshop called Wooden Shoe Books, and from 2001 to 2003 there was an anarchist magazine in Denmark called Sabot. There is also an American record label focusing primarily on punk-rock and genres revolving around it called Sabot Productions,[2] which uses exactly the same sabot picture seen on the right as their logo.
A flag depicting a regular leather shoe of a type worn by peasants in the 16th century was carried by the peasants in the German peasants war of 1524-1525, a proto-anarchist rebellion."
But the image could at the same time be a reference to the clogs worn by Jewish prisoners in German camps.
Zionist Jews collaborated with the Nazis and enabled the Holocaust as a sacrificial offering (holo-caust, a word that came into usage in that way only in the late 1960s) for the acquisition of Israel,  a central component of the NWO.
The New World Order is an Anglo-Zionist project.
UPDATE 5
I just saw this report of a massive military drill in Fort Lauderdale that went on for 3 hours on March 27.
I'm not sure of the date….elsewhere, the drill was supposed to have gone on from March 24-27.
The Baltimore riots started on April 19 and ran on until the end of the month, with 250 people arrested and a state of emergency declared within the city limits.
UPDATE 4:
Correction : the number 1200 is only the number operating in Texas. It's wrongly reported on several sites.
UPDATE 3:
Evangelical Christians who teach that Jesus is the only way have been listed as one of 72 groups classified as potential terrorists, alongside threats like Al Qaeda. Also listed as threats are Tea Party activists, constitutionalists, anti-abortion activists, and people who monger conspiracy theories or attack the New World Order.
I fit the profile in at least 4 categories, if not 5.
UPDATE 2:
Granting that there is a need for RMT (Realistic Military Training), why is it being spread out over 9 states?
And why so much hubbub around the exercise? You would think the whole thing would have been kept much more secret to avoid this kind of controversy around it. This way, the entire world is tipped off about the nature of US training. So that too doesn't  make sense.
It also doesn't make sense that only 1200 forces are involved in such an expensive, time-consuming exercise.
(Correction: It's 1200 in Texas).
And finally, it doesn't make sense that an exercise that is supposed to train the military to infiltrate civilian populations abroad is working with the FBI, DHS, and local police. What do those outfits have to do with foreign enemy situations?
UPDATE 1:
Here's a thought that came to me:
JADE HELM =  GREEN (THE COLOR OF JADE) HELMET
In 1935 the Wehrmacht adopted a lower, lighter version of the M1916/18 "coal scuttle" helmet; this became the ubiquitous German helmet of World War II, worn by all branches of the Wehrmacht and SS, police, fire brigades and Party organizations. Collectors distinguish slight production variants as the M35, M40 and M42. Heer helmets were originally painted "apple green," a semigloss feldgrau somewhat darker than the uniform color; wartime factory and field painting covered a gamut from very dark black-green to slate-grey to olive-green (and sand-yellow in Africa), increasingly in matte or textured paint to eliminate reflections."
ONGOING POST
(Links and information will be added at the bottom, as I find them)
Truth and Action blog describes Jade Helm 15, an unconventional warfare military drill being run across select states in the country that is causing panic among right-wing and anti-state blogs:
"JH is a challenging eight-week joint military and Interagency (IA) Unconventional Warfare (UW) exercise conducted throughout Texas, New Mexico, Arizona, California, Nevada, Utah and Colorado.
UPDATE: Mississippi, Florida and Louisiana have now been added to the list, bringing the total number of states participating to 9."
The left-liberal websites of course pooh-pooh any concerns as "right-wing" insanity.
The governor of one of the 50 states ordered his National Guard forces to "monitor" the U.S. military to ensure they are not planning to turn Texas into Nazi Germany. This is, by the way, the same U.S. military that has 15 bases in the state of Texas.

There's really only one thing to ask these Real American Patriots at a time like this: Why do they hate the troops so much?"
Of course, it has nothing to do with"hating the troops."
If the military has become the tool of an unconstitutional, power-hungry ruling cabal, as many fear it is, the Governor of Texas should be commended for ordering the State Guard to monitor the military in its planned "interactions" with civilians.
Even people who who don't believe any of the conspiracy theories about Jade Helm and see it as bonafide training for survival in hostile territory, envisage scenes that have tremendous potential for violent confrontation:
They're going to set up cells of people and test how well they're able to move around without getting too noticed in the community."

There is no way of knowing exactly what the scenario presented to the troops will be, but it is a certainty that this is not a federal takeover.

At some point, some or all of the troops will be captured. They will begin attempting to "resist" interrogation and plan their "escape."

Why the big secret?

These exercises are very common. Let's suppose you were 1000 miles from where you had to be and you had little or no funds to get there. What would you have to do to arrive safely at your destination while avoiding law enforcement and a military detachment?

These training exercises are not discussed because America's most elite units will most likely be committing a slew of minor crimes along the way. They will certainly trespass, engage in petty theft, sneak onto a train, hide in the back of an 18-wheeler, they might even steal a car. This training is absolutely necessary for these troops' survival in extreme situations, however, the public reaction to the above wouldn't be favorable.""
More below on Jade Helm 15.
1. The drill will be running for 3 months from July  15 – September 15.
Some states have been designated as hostile, including Utah, Texas, and New Mexico.
2. There have been many such drills before, although not anywhere as large. Some of them also designated parts of the US as hostile territory.
3. Special forces (Green Berets, Seals, Marines) will be involved.
The 82nd Airborne Division is also involved.
4. 1200 Special Ops personnel will be involved.
Correction: That's 1200 in Texas.
Lila: That really is not a lot of people.
5. They will be dropped into select cities from planes and will be armed with weapons filled with blanks.
6. Unlike previous exercises,  Jade Helm will involve the police, FBI, JPRA (Joint Personnel Recovery Agency), DHS ( Homeland Security), FEMA (Federal Emergency Management Agency) and electronic warfare.
7. The goal is to test current plans to reduce or control "events and populations" engaged in "unconventional warfare" against the authority of the US government.
Unconventional warfare used to be called guerilla warfare and according to a 1951 manual includes the following:
The term…includes organized and directed passive resistance, espionage, assassination, sabotage and propaganda, and, in some cases, ordinary combat."
That means that anyone running a blog, participating in strikes, marches, or other non-violent anti-government activities, including merely communicating through social media sites or posting comments, could be considered a dissident, traitor, spy, or jihadi, as Bob English found out a few months ago.
Now you know why I have spent so much time on the thankless and unlovely task of deconstructing people I suspect of acting as provocateurs, such as Ann Barnhardt, whose histrionics have surely created a fat data-base for the Feds to trawl.
The focus of special ops expertise is usually such things reconnaissance, espionage, assassinations, and extraction of key enemy figures.
In this case, that would be prominent (and maybe not-so prominent) dissidents and internal enemies, such as patriot groups, drug cartels, and Hispanic revanchists.
8. There will be exercises involving the following:
a. Cutting off the flow of goods and services and information in and out of selected areas.
b. Infiltrating civilian groups.
c. Staged provocations or operations.
d. Reporting of suspicious activities or noises by civilians.
9. The exercises will be carried out mostly in remote areas between 11 pm and 4 am, with the knowledge of local law enforcement..
10. The novel "Day of Wrath," William R. Forstchen, August 29, 2014, involves a scenario in which ISIS enters the US  and slaughters people in a new 9-11, and it  has been linked to the rationale of Jade Helm.
A month later, Fox News ran a story that immigration unions were warning that immigration loop holes were creating a serious threat of ISIS infiltration.
11. Considering the level and complexity of propaganda in the US, it would be simplistic to think that all activists are simply cautioning people sincerely.  My sense is that key activists/websites are involved in the program in a kind of entrapment scenario, intended to precipitate confrontation, for whatever end – whether gun control, or martial law, or some other constraint on civil liberties.
There could also be a legitimate threat in the region that needs the cover story of a military drill and the ISIS angle might be a red herring to distract from the actual objective.
This blogger connects Jade Helm to ISIS and the Baltimore riots, which he sees as instigated.